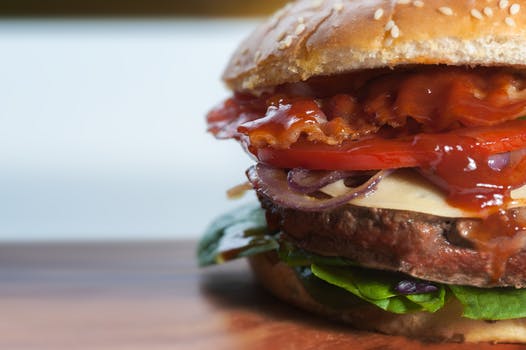 Image: Juicy and delicious burgers with… Bots. Credits to Pexels.
Protect your eating habits… Bot style
INSIDE: Exclusive details about a new industry that is about to be born…
Your time to get in on this NOUVEAU industry may be NOW. Read on…
How cool is this? You go to your favorite burger joint with your buddies, and there comes a giant robot arm greeting you by your name and delivering, right there in front of you, inches from your very own drooling eyes, within a delicious aroma filled environment, the perfect double-stacker, freshly broiled-to-absolute-perfection meat, with crispy bacon, fresh dewy lettuce, ripe blushing-red tomatoes, a pinch of mustard, ketchup in the amount you want, abundant mayo, just like your doctor recommended you not, a touch of pepper, and yes, hold the onions.
And your friends are also delivered their perfect burgers, totally different from yours…
Through a robot arm, in a squeaky clean, spotless non-greasy burger joint, where you can see, smell and feel the freshness of all the ingredients that make a hamburger, well, a hamburger.
What? You think we are in Burger-heaven? Think twice buddy, you have just entered the new normal.
Josh Constine from TechCrunch just found for all of us, burger lovers and not, the BEST San Francisco AI restaurant, serving the quintessential world renowned American fast food: (drum roll, please) the burger!
But the inventor of such Bot contraption, as explained beautifully by Josh Constine in his article, not just delivered a cutting-edge Bot machine, which is transparent for all to see how the hamburger-making-process develops in front of you, but also created a whole culinary experience also for you, so you know that you're eating a tastier, hormone-free, aligned with your teeth, perfect patty. Without the common bloating side effects, usually related to eating similar patties in regular burger joints.
In addition to this marvel of engineering and computer science, the creators want to pay better salaries to their smaller staff (since hey have fewer employees, they can compensate them better), and let them progress in life like any other human being. In fact, the owners will pay their employees to educate themselves and have 10% of their time at work, to do it.
I mean, the tech idea, the robot, the Bot process, like I said, are great. But the social concept is beyond its time. We are in the verge of a double revolution here, the hamburger one, and the employee one. Kudos.
The bad part of this is that the inventors of this fantastic hamburger Bot machine won't be franchising their operations.
Yet.
However, if you read the article here, you can find their address, and if you happen to be in San Francisco, I would highly recommend that you drop by their restaurant, and maybe have a chat with the owners to see the business side of this extraordinary concept. And write us your comments in the section below. Our taste buds and investment-buds will thank you.
And of course, a good idea such as the Bot burger is worth sharing.